A Step to Healthcare Modernization…
It's often said that any journey begins with a single step. This is true when it comes to system modernization as well. In the healthcare space, clients frequently engage in lengthy debates over which system to focus on first for a modernization initiative – an Enterprise Resource Planning (ERP) System or a new Electronic Health Record (EHR) / Electronic Medical Record (EMR) Solution.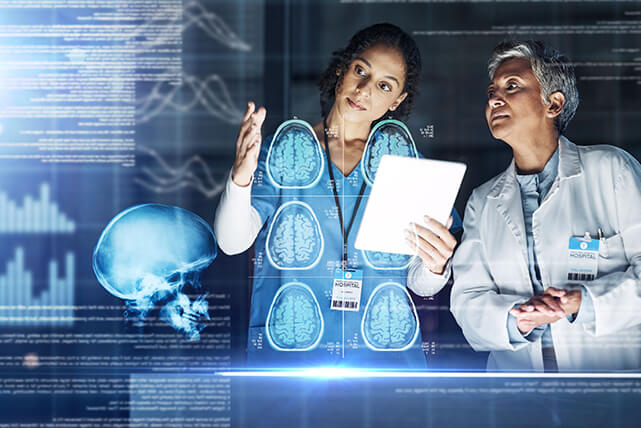 I recently spoke with a customer in the midst of this debate and told them we could have their ERP system implemented and live on Oracle Cloud before they even selected a new EHR/EMR Solution.
While we acknowledge the critical role of EHR/EMR in Patient Care and the Revenue Cycle, we also know that a solid and dependable ERP system is equally important to the financial well-being and supply chain management within healthcare organizations.
At Apps Associates, we have been fortunate to assist multiple hospitals in taking the step of migrating from their outdated Meditech ERP system to the modern Oracle Cloud suite of products.  Some of these customers stayed on Meditech for the EHR/EMR side of the business and integrated it with Oracle ERP, while others chose to migrate to new EHR/EMR systems.
Beyond the end result of a modern system with embedded best practices, increased HIPAA security, mobile capabilities, and integrated machine learning, prioritizing an Oracle ERP suite migration ahead of an EHR/EMR project offers additional organizational advantages:
Engaging in a smaller, more manageable project prior to the larger and longer EHR/EMR migration
Providing an opportunity for the organization's internal Project Management Office (PMO) to engage on a software project with many integration points
Enabling the finance team to evaluate the Chart of Accounts and restructure it if needed to align with the current and future goals of the organization
Gaining an understanding of what methodology and approach works well when dealing with a systems integrator
Experiencing a real-world exercise in change management, understanding what works well within the organization, and determining the organization's optimal pace to run internally as they implements ERP.  This sets expectations for any future EHR/EMR projects.
The key to key to reaching your destination is taking the first step.
Considering migrating from Meditech to the Oracle Cloud?  Contact us today.
For more information about Apps Associates' healthcare expertise, visit our healthcare page.